NATURAL FLOWER WATERS ORANGE BLOSSOM
30.00 $
Orange blossom water is renowned for its moisturizing, toning, refreshing and calming properties. It softens and smoothes the skin. It is the ideal care for dry, fragile and sensitive skin. It prevents itching due to sunburn. It is ideal for decongesting and resting the eyelids.
In addition, it prevents the appearance of brown spots.
As a tonic, it removes all impurities and make-up remover milk residues. The cleansed skin is ready to receive a skin care cream.
Email to a friend
Description
   
The orange tree is known for its fruit rich in vitamin C and also for its flowers (which blossom in April and May). In the ancient times, the orange blossom was used to make crowns for a marrying couple.
Once macerated and distilled, the orange blossom produces an essential oil and a water (or hydrolysate). It is also used in the perfume and cosmetics industries.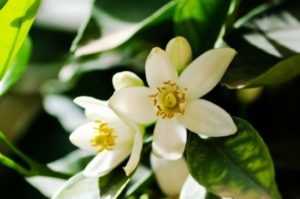 HOW TO USE:
Orange blossom floral water is applied as a tonic using a cotton pad previously moistened on the face.
Returns
-All returns must be made within 1 month of the e-mail confirming shipment. -Due to Christmas Time, the returns period for orders placed December 1st will be extended until the 9th of January. -Items must be in their original condition and you will be required to present the corresponding receipt. -Please note that it is always necessary to have received the merchandise prior to requesting a refund -COSMECOR inc. reserves the right to reject returns sent or communicated beyond the return period limit, or items which are not in the same condition in which they were received
Ship your item back to Us
COSMECOR inc.
808 de la Portneuf, Terrebonne, Québec, J6W 0B6, CANADA Please remember to ensure that the item you are returning is repackaged with all elements.
How much do I pay for delivery service?
Free shipping from 60.00 CAD (Before taxes).
The standard fees are $12.00 CAD for Montreal ( including North Shore and South Shore) and $15.00 for the other region in Quebec. $17.00 Ontario $22.00 Manitoba, Saskatchewan, Alberta, British Colombia, New Foundland, Nova Scotia, New Brunswick, Prince Edward Island $40 other remote regions
For more information, view our full Returns & delivery fees page information.